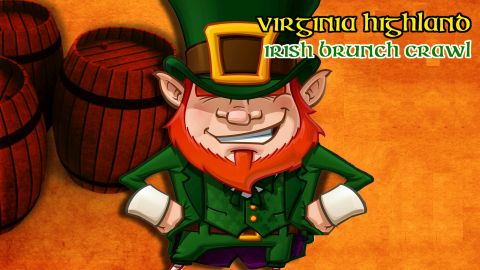 Join the early risers in celebrating St. Patrick's Day in Virginia Highland on Sunday, March 13th!
It's a Pub Crawl Brunch Party with 10+ bars & restaurants!
If you don't know by now you will…Virginia Highland has some of best brunch spots in Atlanta.
Ticket Includes: Complimentary themed Irish/Brunch beverages & Drink Specials i.e; Green beer, mimosas & Bloody Mary's, complimentary Irish themed brunch items, other Irish themed food specials, party beads and more.
Participating Bars & Restaurants (Food & Beverage Offerings)
Neighbor's Pub / Room 752: Comp Mini Green Mimosa and green egg and ham biscuit
Dark Horse Tavern: Comp 10oz Green Beer and Breakfast Corn Dog
Bar Bacoa: $3 Greengo Tequila Cocktail or $2 Miller Lite Draft or $1 House Shot & $3 Trailer Park & Avocado Tacos (2pm – 5pm)
Diesel: $3 Bloody Mary or Mimosa, $2 PBR or $1 Green Shot (Opens at 12 Noon)
George's Bar & Restaurant: 321 Specials (11am – 3pm Only) "Great Burgers"
Moe's & Joe's: $4 Cocktail or $3 Beer or $2 Shot & $4 Irish Sausage Bangers
The Warren City Club: $1 Bud or Miller Light or $2 fruity vodka shot (From 2pm – 5pm Only)
Truva: $2 High Life can or $2 well shot & $3 kebab- Adana, chicken or doner
Taco Mac: $3 16oz PBR
Sea Salt: $4 Cocktail or $3 Beer or $2 Shot
Farm Burger: $3 Creature Comforts Classic City Lager on draft, $4 Cheeseburger Sliders and $3 Farm Burger Fries (6-9pm)
(Bars & Offerings Subject to change)
Registration: Neighbor's Pub
Address: 752 North Highland Avenue NE, Atlanta 30306
Registration Time: 11am – 3pm
Event Time: 11am – 5pm
Map and food & drink offerings info is given out at registration.
* MUST BE 21 & UP TO ATTEND EVENT *
* RAIN or SHINE (No Refunds)
www.atlantabartours.com
Check Out Pics from past event!