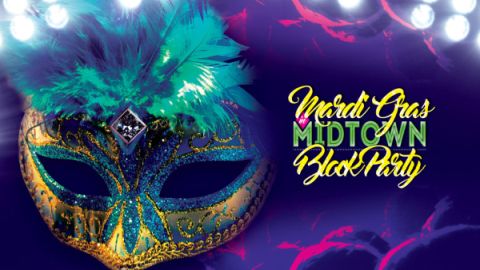 Mardi Gras Block Party + Beads + New Orleans Themed Food & Drinks!
Midtown Mardi Gras BLOCK PARTY is something to see with 15+ Bars, Clubs & Restaurants participating in the heart of Midtown's entertainment district! So, break out the beads and come ready for a night out on the town in Atlanta's own BIG EASY!  Dress up and bring your Krewe (a "krewe" pronounced "crew" is an organization that puts on a parade or ball for the Carnival season).  Covid 19 safety protocols will be in place.  Please wear a mask.  
Ticket Includes: New Orleans themed comp shots, 3/2/1 specials ($3 well cocktail or $2 beer or $1 shot), beads, New Orleans themed food specials, music and much more.  We will have live street band performance throughout the night & a food truck on site all night plus a face painter & photo booth.
15+ Participating Establishments:
Tiki Tango Oasis Hideaway: Comp Shot & $ 6 Tiki Time Bomb & DJ
Foxtrot Liquor Bar: Comp Shot & $ 6 Tiki Time Bomb & DJ
The Nook: $3 Well Cocktail or $2 Mystery beer (You get what you get!) or $1 Nook Shot & 25% Off Totchos
Veranda: $2 Shot & DJ
Koo Koo Room: $2 Shot (7pm – 11pm Only) & DJ
Tin Lizzy's Cantina: $4 Margarita or $3 PBR or $2 Shot & Live Music
Publico Kitchen & Tap: $3 Cocktail or $2 PBR
My Sister's Room: $2 Miller Hi Life Tall Boys or $4 Lemon Drops, $3 Taco & DJ
Establishment: $1 Vodka Shot & DJ
Fado's Irish Pub: $3 Hurricane or Jello Shot or $5 Svedka Cocktail
Hudson Grille: $3 Shorties & PBR Draft, $5 Select Cocktails, $16 Select Beer Pitchers
Traffik Kitchen & Cocktails: 321 Specials (7pm – 11pm Only) & DJ
Blue India: $3 Well Cocktail & 1/2 Price Apps (9pm – 11pm Only)
Silverlake Ramen: $3 Beer or $8 Cocktails & $10 Ramen Dishes
Taco Mac: $4 Harp pint or $4 Irish car bombs or $3 Bud Light bottles
(Bars & Offerings subject to change)
Party Check In Registration
Location: MSR – My Sister's Room
84 12th St NE, Atlanta, GA 30309
Registration Time: 6:00 pm – 11:00pm
Event Time: 6:00 pm – 2:00 am
* MUST HAVE A VALID ID and be 21 & UP TO ATTEND EVENT
* RAIN or MOONLIGHT (No Refunds)
More info www.AtlantaBarTours.com
Hotel Accommodations Options:
Renaissance Atlanta Midtown Hotel
Atlanta Marriott Suites Midtown
Moxy Atlanta Midtown
AC Hotel Atlanta Midtown