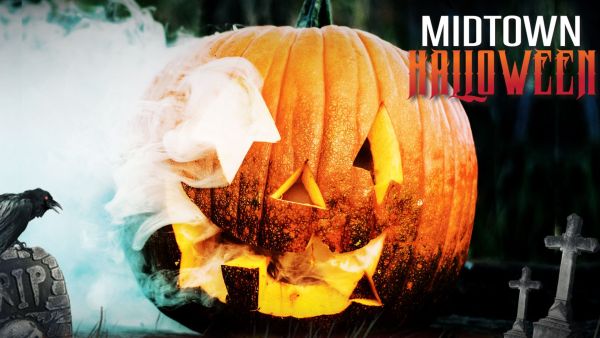 Dress up for a night of fantasy and mischief at the Midtown District Halloween Block Party. Atlanta's Largest Halloween Party, with 2000+ over the last 11 years, takes over all of Midtown until 2:30 am! Get dressed up, drink, eat, crawl and repeat!
Tickets Include: Special event wristband that gets you FREE Admission Entry to 30+ participating establishments (NO COVER CHARGES), complimentary shots, exclusive food & drink offerings, food truck, DJ's & live music. $500 Costume Contest! Party is from 6:00 p.m. until establishments close and many venues will be utilizing parking lots & patios. A limited number of tickets will sold for this event.
Party Registration & Costume Contest
Location: Politan Row at Colony Square
Address: 1197 Peachtree Street NE Atlanta, GA 30361
Check In Time: 6:00 p.m.- 11:00 p.m.
30+ Participating Bars, Clubs & Restaurants
Politan Row at Colony Square: TBA
McCray's Tavern: Comp Shot
Fado Irish Pub: $5 Svedka Cocktail or $3 Coors Light Draft or $2 Jello shots ( while supplies last )
The Nook: $5 Well, $3 Bud Light and $2 Nook Shots (Closes Midnight)
Veranda: $3 Cocktail or $3 Shot – DJ
Establishment: $2 Breck Vodka Shot & DJ
Hudson Grille: $3 Shorties & 16oz PBR Draft, $10 PBR Pitchers, $5 Select Cocktails, $16 Select Beer Pitchers
My Sister's Room: $2 Miller Hi-Life or $4 Lemon Drop, $3 Tacos (Kitchen closes midnight) & DJ Wulf
Tin Lizzy's Cantina: $5 Margarita or $3 PBR or $2 House Tequila Shorty / $3 Chicken Tacos
Traffik Kitchen & Cocktails: $4 Cocktail or $3 Beer or $2 Shot (7pm – 11pm Only) & DJ & Hookahs
Koo Koo Room: $3 Cocktail or $3 Shot – DJ (7pm – 11pm Only)
Blue India: $3 Well Cocktail or $2 Well Shot (Closes 10:45pm)
Ponko Chicken: $3 Ponko Brew or Fireball Shot or $4 Tequila Shot & Matcha Margarita
Cypress Street Pint & Plate: $3 House Draft Beer (Pilsner or IPA)
Silverlake Ramen: $3 Beers (Sapporo Draft, Sapporo Light, Kirin) or $3 Shot or $5 Margarita, Mojito & $5 Appetizers
Taco Mac: $3 Stone Can Beer or $4 Jack Daniels Fire Shot or $5 Margaritas
Mukja Korean Fried Chicken: $13 Chicken Sandwich & Beer Special
Embr Lounge: $3 Cocktail or Shot
Energy Daiquiri Bar: $10 Daiquiri's & $5 Draft Beers
10th & Piedmont: $5 Cocktail
G's Midtown: $5 Cocktail
Henry's Midtown: $6 Well Cocktail or $3 Corona or $2 Fireball shot
X Midtown: $4 Cocktail or $3 Shot
Pour Taproom: 10% Off until 11pm
Moxy Atlanta Midtown: TBA
Fins & Feathers: TBA
Amici Midtown: TBA
Zocalo Creative Mexican: TBA
Rowdy Tiger Whiskey Bar & Kitchen (Marriott Renaissance): TBA
Rreal Tacos: TBA
(Venues & Offerings subject to change/More locations TBA)
More info www.AtlantaBarTours.com
* MUST BE 21 & UP TO ATTEND EVENT *
* RAIN or MOONLIGHT (No Refunds)
Hotel Accommodations Options (Stay & Play):
Renaissance Atlanta Midtown Hotel
Atlanta Marriott Suites Midtown
Moxy Atlanta Midtown
AC Hotel Atlanta Midtown
Check out the past pics!