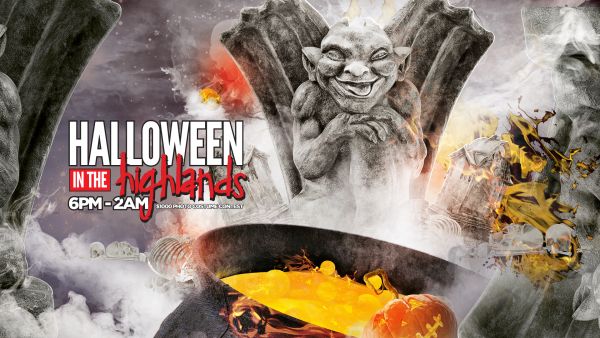 We say it every year, and this year is no exception…"IF THERE IS ONLY ONE HALLOWEEN PARTY YOU JOIN THIS YEAR, THIS IS IT!"  Don't take our word for it! Check out past event video and pics of this annual fright fest in its 11th year.  This bash sells out every year!  Party goes until 2:00 am at most establishments!!! Masks and social distancing encouraged.
Ticket Package Includes:  Special event wristband which gets you FREE Admission to 10+ Virginia Highland establishments, complimentary shots, exclusive food & drink offerings, food trucks, DJ's & live music.  $500 Costume Contest! Party is from 6:00 p.m. until establishments close and many venues will be utilizing parking lots & patios.  A limited number of tickets will sold for this event.
Check In Registration
Location: Neighbor's Pub (Outside Parking Lot)
Address: 752 North Highland Av NE, Atlanta, GA 30306
Time: 6:00 p.m.- 10:00 p.m.
10+ Participating Bars, Clubs & Restaurants:
Neighbor's Pub: Comp Shot & $5 El Jimador Shots, $4 Sam Seasonal Pints & $6 Nachos
Dark Horse Tavern: Comp Shot & $5 Jack Apple Shots & $3 Miller High Life
Room 752: Comp Shot & $5 El Jimador & Jack Apple Shots & $4 Sam Seasonal Pints & DJ
Warren City Club: $3 Fireball Shot or $2 Miller Lite (Drink Specials end at midnight & Free Entry til 11pm)
10 High: Metalsome Live Band Karaoke
Truva: $3 Shot or $4 Cocktail (Closes 11pm)
Moe's & Joe's: $4 Cocktail or $3 Beer or $2 Shot
Taco Mac: $3 16oz PBR
Sea Salt: $4 Cocktail or $3 Beer or $2 Shot
Farm Burger: $3 Creature Comforts Classic City Lager on draft, $4 Cheeseburger Sliders and $3 Farm Burger Fries (6-9pm)
Pielands Pizza: TBA
(Venues & offerings subject to change)
Check out ​pics from past year!
More Info
www.AtlantaBarTours.com
* MUST BE 21 & UP TO ATTEND EVENT *
* RAIN or MOONLIGHT (No Refunds)