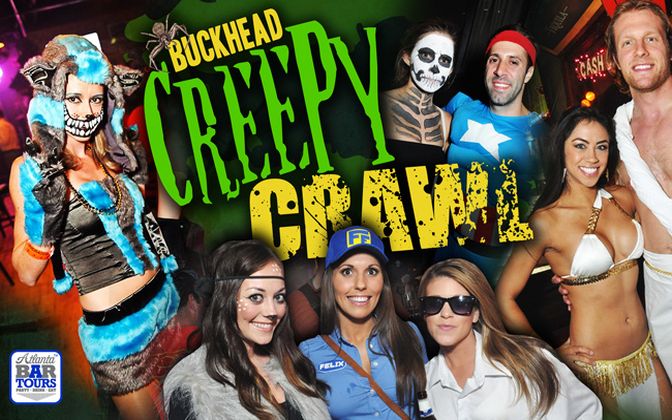 Join 1000+ on a wild & crazy Halloween themed bar crawl Halloween night!
Get your freak on! Eat, drink & party in the Buckhead entertainment district at the hottest clubs, bars & restaurants
Tickets Include: Special event wristband that gets you FREE Admission Entry to 10+ establishments (NO COVER CHARGES), complimentary shots, exclusive food & drink specials, DJ's & live music.  Plus you can compete in the $500 costume contest at Moon Dogs at the end of the night.  Party is from 7:00 p.m. until establishments close and many venues will be utilizing parking lots & patios. A limited number of tickets will sold for this event.
Registration: Lost Dog Tavern
3182 Roswell Rd, Atlanta, GA 30305
Time: 7:00 p.m.- 11:00 p.m.
10+ Participating Establishments
Lost Dog Tavern: Comp Shot & & $3 "Boo Berry" Shooters All Night, $4 Drafts (XX Lager, Pacifico, Miller Lite) until 11pm (Closes 2am)
Moondogs: $2 Vampire's Kiss Shots, $4 Starburst Bombs, $5 Los Bravos Pints, $7 The Candy Man Cocktail, $8 Witches Brew Cocktail and DJ (Closes 3am)
Costume Contest @ Midnight:
1st Place – $200 Cash + $50 Moondogs Gift Card
2nd Place – $100 Cash + $50 Moondogs Gift Card
3rd Place – $100 Moondogs Gift Card
NRG / Hole in the Wall: Comp Shot & Free Entry (9pm – Midnight Only) (Closes 2am)
Elbow Room: $4 Well (Best Pizza, Stromboli & Calzone in Buckhead) (Closes 2am)
Red Door Tavern: $4 Domestic Beer or $5 Well Cocktail or $5 Pumpkin Pie Fireball Shot (Closes 2am)
Irby's Tavern: $4 Cocktail or $2 Shot (Closes 2am)
Churchills: $4 Cocktail or $3 Beer or $2 Shot until midnight (Closes 2am)
Fado's Irish Pub: $6 Terrapin Oktoberfest, High N'Hazy & Lua & $4 Jack Daniels Fire & Honey (Closes Midnight)
Habitat Kitchen & Bar: $5 Tequila Shot or $7 Margarita (7pm -10pm) & DJ (Closes 2am)
Velvet Taco: $8.50 Regular Rocks or Frozen Margaritas & $11.50 For Large Rocks or Frozen Margs (Closes 2am)
Dive Bar: $5 Cocktail or $4 Dos Equis or $3 Shot (Specials end 11pm, Free Entrance ends Midnight) (Closes 2am)
Big Sky: $3 Shot (Closes 2am)
Knife Kitchen & Cocktails: $5 Sangria or $4 Stella & DJ (12 midnight – 3am only)
5 Paces: $5 Cocktail or $4 Beer or $3 Shot & Band
(Venues & offerings subject to change)
Map and food & drink offerings info is given out at registration.
* MUST BE 21 & UP TO ATTEND EVENT *
* RAIN or MOONLIGHT (No Refunds)
More info www.AtlantaBarTours.com
Check out the pics from last year!