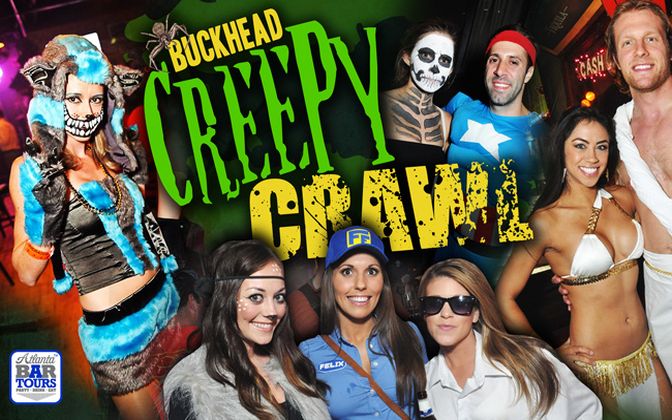 Join 1000+ on a wild & crazy Halloween themed bar crawl Halloween night!
Get your freak on! Eat, drink & party in the Buckhead entertainment district at the hottest bars, clubs & restaurants.
Tickets Include: Special event wristband that gets you FREE Admission Entry to 10+ establishments (NO COVER CHARGES), complimentary shots, 4/3/2 Specials ($4 Cocktails or $3 Beer or $2 Shot), exclusive food & drink specials, DJ's & live music.  Plus you can compete in the costume contest at Moon Dogs at the end of the night.  Party is from 7:00 p.m. – til bars close. Party is from 7:00 p.m. until establishments close and many venues will be utilizing parking lots & patios. A limited number of tickets will sold for this event.
Registration: Stagecoach/Misfits
34 Irby Ave NW Atlanta, GA 30305
Time: 7:00 p.m.-11:00 p.m.
10+ Participating Establishments
Moondogs – Complimentary Shot at Check In, Complimentary Shot at Check In, $2 Yuengling Hershey's Chocolate Porter, $4 Black Widow Cider, $6 Shot & $8 Specialty Spooky Cocktails including Werewolf, Hayride, Witches Delight, Purple People Eater and Jekyll and Gin & DJ (Costume Contest at Midnight)
Hole in the Wall – Comp Shot
Elbow Room – $3 Domestic Beers
Red Door Tavern – $4 Well or $3 Truly Draft or $2 Fireball
Buckhead Saloon: $4 Jack & Coke or $3 Flight Draft Beer or $2 Shot & 1/2 Off All Apps except wings until 11pm
Irby's Tavern:$3 Beer or $5 Cocktail
Churchills: 321 Specials
Kramer's: $5 Well Cocktail or $4 Domestic Beer or $3 Shot
Stagecoach: $3 Well Cocktail or Bomb or Truly's or High Noon
Misfits: $3 Well Cocktail or Bomb or Truly's or High Noon
5 Paces Inn – $3 Cocktail & Live Music
(Venues & offerings subject to change)
Map and food & drink offerings info is given out at registration.
* MUST BE 21 & UP TO ATTEND EVENT *
* RAIN or MOONLIGHT (No Refunds)
More info www.AtlantaBarTours.com
Check out the pics from last year!