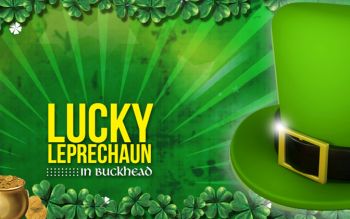 Everyone gets lucky in Buckhead this St. Patrick's Day!
Be Irish for the Day and wear your GREEN!
10+ Bars, Restaurants & Clubs with exclusive drink & food offerings, DJ's & live music.
Ticket Includes: Irish themed comp shots and drink & food specials, live music, DJ's, party beads & no covers.  Map with food & drink offerings info is given out at registration.
10+ Participating Establishments (Drink & Food Offerings)
Stagecoach: Complimentary Shot at Check In & $4 St Patty's Well Cocktail, $3 Domestic Beer or $2 St Patty Shot & DJ
Misfits: $4 St Patty's Well Cocktail, $3 Domestic Beer or $2 St Patty Shot & July Turner band from Nashville, TN
Fadó Irish Pub: Free Entry to Outdoor Party until 5pm & drink specials TBA ($10 Value)
Big Sky Buckhead: $3 Shot
5 Paces Inn: $4 Cocktail or $3 Beer or $2 Shot (8pm til close)
Hole in the Wall: Comp Shot & Free Entry (7pm – Midnight Only) & DJ
Irby's Tavern: $4 Cocktail or $2 Shot & 15% Off Food
Moon Dogs: $3 Killians Bottles, $4 Baby Irish Car Bombs, $5 Guinness Drafts. $7 Slane Whiskey Cocktails., $8 Florida Green Tea Shots & $9 Jameson Cocktails w/ DJ Masked Beatz (opens 9pm).
Elbow Room: $4 Well (Best Pizza, Stromboli & Calzone in Buckhead)
Red Door Tavern: $5 Mini Car Bombs or $4 Wells or $3 Domestic Beer & DJ
Churchills Pub: $4 Cocktail or $3 Beer or $2 Shot until midnight
Habitat Kitchen & Bar: $5 Margaritas or Tequila until 11pm & DJ
Velvet Taco: $7.50 Regular Rocks or Frozen Margaritas | $10.50 For Large Rocks or Frozen Margs
(Bars and drink & food offerings are subject to change)
Party Registration
Stagecoach/Misfits
34 Irby Ave NW Atlanta, GA 30305
Check In Time: 4pm – 9pm
Event Time: 4pm – Midnight or until bars close
* MUST HAVE A VALID ID and be 21 & UP TO ATTEND EVENT *
* RAIN or MOONLIGHT (No Refunds)
More Info: www.atlantabartours.com