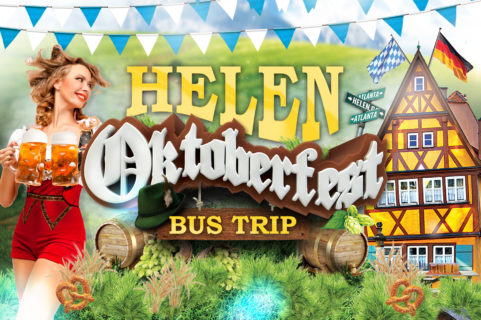 Helen Oktoberfest Trip • Oct. 10th, 2020 • 10am
Do you like clanking steins and dressing up in lederhosen?
Join us as we take 4 coach buses to beautiful N. Georgia to visit Helen, Georgia. This little German designed town is home to 6 weeks of Oktoberfest. We will do a Helen bar crawl for 19th year hitting on the fun spots upon arriving in Helen.
Trip includes coach RT bus transportation, beers, wine, mimosas, water & snacks. Drinks and food in Helen is not included.
*Buses load and leave from Churchill's Pub – 3223 Cains Hill Pl NW Atlanta GA 30305*
*$10 – $20 Secure & safe paid parking at The Cotton Exchange Building located at 3155 Roswell Rd which is one block away*
Atlanta Departure
9:30AM: Check In
10AM: Buses leave
Noon: Helen arrival
Schedule of Day in Helen
Noon: Bus will drop of close to town by Hayloft
12:30PM – 2PM: King Ludwig's Biergarten – Located in the heart of downtown with live music.
2PM – 3:30PM: Viele Margaritas – Largest patio w TVs with live music – $5 cover
3:30PM – 5PM: Cafe International – Live music & parking lot party.
5PM – 6:00PM: Troll Tavern located under bridge on Main St. Good bar & restaurant with patio & TV's.
6:00PM: Back to Bus Dropoff/Pickup Area
6:30PM: Departure from Helen
8:00PM: Arrival back in Buckhead
Maps & Schedule will be handed out on the buses.
This is a prepay event and will sell out! No refunds for no shows!